Hiking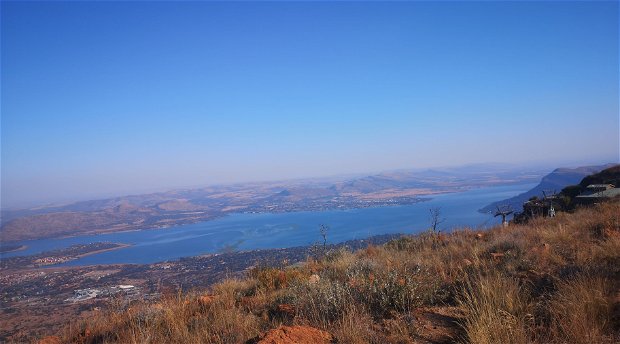 Please note that we only take bookings for hiking for groups of 5 persons or more.
Cost per adult: R90
Cost per child (5 - 14 years) : R60 (not recommended for kids below the age of 5, the walk is strenuous)
We have an amazing hiking route at Harties Horse Trail Safaris!
The route is approximately 6km.
The first part of the hike is partly through the nature reserve.
A guide walks with groups up to the mountain, where they continue on their self guided mountain hike.
Hike a beautiful part of the Magalies Mountain Range, which is part of privately owned Silkaatsnek Nature reserve.
The approx 4.5 km trail takes you right to the top of the mountain, next to the Harties Cableway where you will enjoy stunning views of Harties and the dam!
* Mountain Hikers can go eat something at the Harties Cable Way restaurant at the top of the mountain before hiking down
Duration of the mountain hike:
For beginners hikers: 2.5 hours to the top and 2 hours down
For intermediate hikers: 1.5 Hour and 1.5 hours down
For advanced hikers: 1 Hour up and 1 hour down
The hiking route is open Mondays to Saturdays.
There are 2 hiking start times Mondays to Fridays (pls arrive 15 mins prior) : 8 am and 9 am ( we do not take hikers up after 9 am)
Saturdays the 2 hiking starting times are 7:30 am and 8:30 am (please note we do not take guest up after 8:30 am on a Saturday)
All hikers needs to be down from the mountain by 4 pm.
Easily Book Online by clicking on the Book Now button OR mail [email protected] or Whatsapp 0649074827
Group special: 15 or more R80 per adult, R50 per child
30 or more: R70 per adult , R40 per child
*NB*
* If there is a chance of rain, make sure to take along rain suits etc. You will still have to finish your hike even if it does start raining or thundering. We do not provide pick up services from the mountain or nature reserve. You do need to turn around should you feel you will not be able to complete the hike.