Sunrise Safari 1 HOUR (8:30 am / 9:00 am) R400 per Adult, R350 per child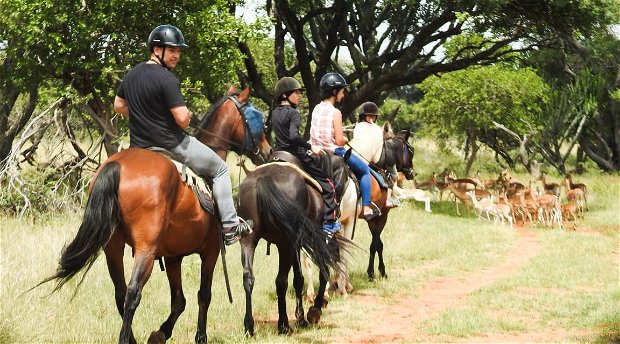 This is a stunning guided one hour wildlife horseback safari where you will venture out on horseback between wildlife in the fresh morning air.
Trail Time is at 9:00 am  : Mondays to Fridays
Trail time: 8:30 am : Saturdays and public holidays the 1 hour sunrise starts at
View the following wildlife up close from horseback: 
Giraffe, Kudu, Blue Wildebeest, Nyala, Impala, Ostrich, Blesbuck, Zebra, Springbuck, Red Hartebeest, Waterbuck and more.
Take a relaxing ride through nature with our well trained horses and experienced guides. 
No horseback experience needed. We do not trot, canter or gallop on the trails as it is a relaxing safari ride and we want to keep it safe and fun for everyone in the group . 
What is included: A lovely one hour horseback safari onto a beautiful nature reserve, you will have the chance to take stunning pictures, so bring along your camera. And don't forget some apples or carrots for your horse!
GOOD NEWS:
Harties Horse Trail Safaris now also offer amazing quad bike bush tours!
Drive around the nature reserve and encounter wild life on the way, you will have a total different experience on the quad bikes than the horses, therefore both activities are recommended if you want to make it an adventurous day!
Perfect for beginners who have never driven a quad.  (Kids needs to be 16 and older to drive their own quad bike)
Discount applies when booking both a horse ride plus a quad bike tour.
To book a horseback and quad bike combo kindly Whatsapp us on 064 907 48 27
For horse riding or quad biking only: Kindly book online at the BOOK NOW button.
PICNICS:
Groups of 4 persons and more can book a standard or luxury picnic, before or after any activity.
CABLE WAY:
You can now also book your cableway ticket through Harties Horse Trail Safaris, when you do 1 or more activities with us.
Hartbeespoort Cableway is only an 5 minutes drive from Harties Horse Trail Safaris. Choose your cableway ticket online upon check out, when booking for your horseback safari and we will email you your ticket(s).
Cost for the cableway is R250 per adult and R160 per child (4 to 14 years) - Under 4's are free at the cableway.
Please note that the cableway is closed on Mondays and Tuesdays.
We look forward having you over for your bush adventure!
Arrival Time is 45 mins prior.
We are situated inside Silkaatsnek Nature reserve on the R511, Hartbeespoort.  
50 min drive from Midrand & Centurion
And only 1 Hour drive from Johannesburg and Pretoria. 
For directions please use Google Maps, click here: Harties Horse Trail Safaris
MORE INFO:
Please note pregnant ladies are not allowed to ride.
Children Policy:
We do not allow any children to share a saddle with adults. They must be able to ride their own horse to be able to join on our rides. Children from the age 6 and older can join on the ride BUT they MUST be able to steer their own horse..(Pull right, left and back). All children will ride their own horse and must be confident enough to ride by themselves without being led. 
Photographer:
We do have a photographer onsite which can be prebooked on your online booking or booked on the day at an additional cost. Needs to be paid by card as we do not accept cash at the venue.
Restaurant:
Please note that no own drinks or food is allowed on the premises. 
We do have a tuckshop onsite, where snacks and cooldrinks can be bought  (needs to be paid by card - we do not accept cash)
We do cater for picnics, for couples have a look here:  Romantic Packages.  Or if you are a group of friends or a family have a look at our amazing Group/Family Safari and picnic. Please note we do NOT allow self catering on picnics.
What to wear:
Please come dressed decently. (Meaning all body parts covered) . 
Wear: Comfortable clothing. Gym/ Bush type clothing - but don't wear tops where your stomach is exposed. A T-Shirt, long & strecthy pants or jean and close toe shoes are perfect. 
No skirts, shorts or dresses. - The saddle scratches your legs in these.
Don't wear white - it will get dirty soon! 
In the event that rain is predicted : Make sure to pack a rain jacket or rain proof blazer.